Discover more from Letter from Spain
Observations and news of living and writing in Spain, as I work on the art detective series (books and screen).
Letter from Spain #24
Madrid, Madrid ...
Just a short post this week, with more photos than words …
We arrived in Madrid on Wednesday and, as I wrote last week, it coincided - as expected - with Alberto Núñez Feijóo failing in the first investiture vote on that same day, and then on a second attempt on the Friday, too. Pedro Sánchez will now have a go at trying to form a government. But if he doesn't manage it by 27 November (and he's got his work cut out with the increasing demands of the Catalan pro-independence groups), then another general election will be held on 14 January.
Time in Madrid has been spent visiting the Thyssen, Prado and Reina Sofia museums (researching the sequel, 'The Madrid Connection'), meeting up with old (and new) friends, walking, eating and drinking, spending time with one of my sons who is now working here, and just enjoying this great city with Juliane.
On Thursday I had what I consider to be a very positive meeting on the audiovisual side of things with The Barcelona Connection, for which James C from Nevision in London, my partners in this project, joined me. That same evening, I had an event at the brilliant Secret Kingdoms bookstore, chatting about TBC and A Load of Bull with Ann Louise Bateson, radio producer and presenter of the English language programme, 'Madrid Live'. There are some photos below …
As we chatted about A Load of Bull this week, I also took it upon myself to revisit some of the key locations in the early chapters of the book, including the Centro Colon, Serrano Tres ('Sir Rhino Twes'), and Lope de Vega 47. Those of you who have read the book might appreciate some of these photos, and those of you who have yet to read it … well, you have a treat in store ;)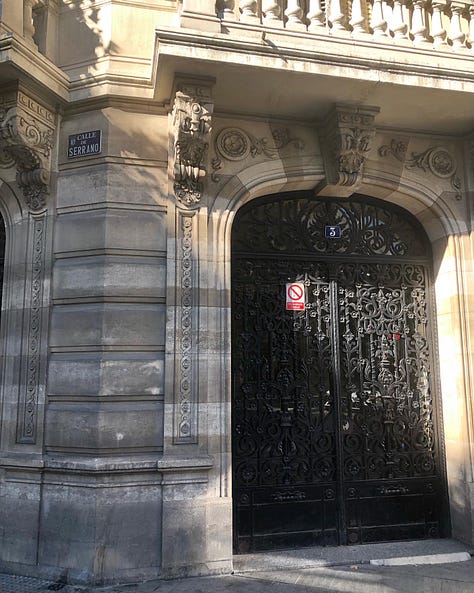 I'm signing off early to enjoy my last night (for now) in Madrid. More next week, and in the meantime I will be back chatting with Giles Brown on Talk Radio Europe on Wednesday 4 October about the weekly news in Spain …
The Barcelona Connection - Research
For those of you following this blog's research and the locations behind The Barcelona Connection, I will resume with Chapter 25 and Benjamin's thoughts (and my notes) on Púbol, Port Lligat and Figueres next week …
Previous links to my research notes are here:
The Barcelona Connection - Reviews, News & Events
Here are some photos from Thursday's event at The Secret Kingdoms bookstore in Madrid …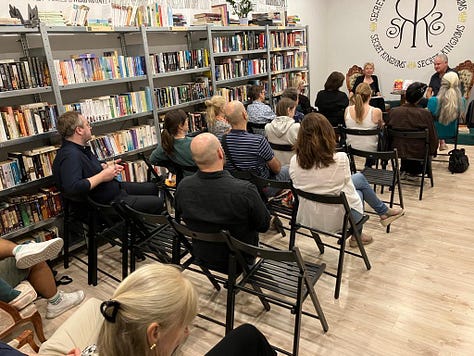 Another date for the diary, this time in Barcelona. On Saturday 28 October from 2.30pm - 3.15pm, I will be participating in a roundtable discussion with two other authors and hosted by Barcelona City Council for their annual International Community Day, with the topic being 'How to enjoy and rediscover Barcelona through literature'. The event takes place at the Museu Marítim de Barcelona. It is free to attend the International Community Day, but prior registration is required via this link: https://inscripcions.barcelona.cat/barcelona_international_community_day_2023-en/
Hope to see you there!
Links to reviews & articles
Here's the link for a review of The Barcelona Connection that came out in La Revista, a publication of the British-Spanish Society.
Here's a link to a review of the book published by the Spain in English online newspaper.
Here's the link to an article I was asked to write for The Art Newspaper about my research on Salvador Dalí.
You can also click here for the latest reviews on Amazon, as well as on Goodreads and at Barnes & Noble.
The book is available on Amazon or you can also click here to choose where else to order your copy from. It can also be ordered from any bookshop simply by giving the ISBN number: 978-1-7393326-1-7.
For professional enquiries and foreign rights for The Barcelona Connection, please contact my agent Justyna Rzewuska at the Hanska Literary & Film Agency.
Thanks for reading Letter from Spain! Subscribe for free to receive new posts and support my work.