Discover more from Letter from Spain
Observations and news of living and writing in Spain, as I work on the art detective series (books and screen).
Instead of writing about things in Spain this week, I'm taking a break and turning my attention briefly to Vogue House in Hanover Square, London.
Thanks to a great friend and ex-Condé Nast colleague, I discovered yesterday that the November issue of British Vogue features the Vogue House building on its cover - and, I believe, on three different versions of the cover. Why? Because the magazine's publishers, Condé Nast, are finally vacating the building …
'Supermodels, celebrities and even royalty have swept though its revolving doors, but after six decades, Condé Nast, the publisher of Vogue, is moving out of its historic London offices on Hanover Square,' wrote The Guardian at the start of this year. And the time has finally arrived.
45 years ago (45 years!), I walked into Vogue House in London and asked for a job. And I got a job (I learned years later) because I reminded the Personnel Manager (Angela Simons or Simmons) of her nephew.
I started working at Vogue House on Monday, 13 November 1978. I was 18. My starting salary was £2,500 a year – plus luncheon vouchers.
I wasn't only the youngest male employee at the time, I was the youngest employee overall. I first worked in the production department (they called it the 'make-up' department) of Vogue, House & Garden and Brides magazines, actually doing the 'flat-plan', and being the link between the editorial and advertising departments. I was in heaven. I learnt everything there was to know about magazines and publishing, thanks to Condé Nast. When they acquired Tatler magazine (I think it was in 1983), I ended up writing a monthly column for the magazine, as well as doing the production and trying to sell some advertising.
I have nothing but happy, wild, surreal and outrageous memories (many of them) working at Vogue House - and one day I am going to write about them in full.
I worked at Vogue House in London for 10 years … from 1978 to 1988. I was then sent to Madrid (initially for 6 weeks) to help with the launch of Spanish Vogue, but stayed in Madrid for 10 years and ended up running the Spanish company (all related in A Load of Bull). From 1999-2000, I also worked at Vogue House in London again, setting up the company's 'customer publishing' division.
So, all in all, I worked for Condé Nast for 22 years, and ran the Spanish company … all because I walked in and asked for a job.
The photos below were taken in May 2013 (Vogue House) and October 2016 ('Sir Rhino Twes' - the original 'Serrano Tres' offices of Vogue in Madrid - if you read A Load of Bull then you'll understand - and an equally important building in my life).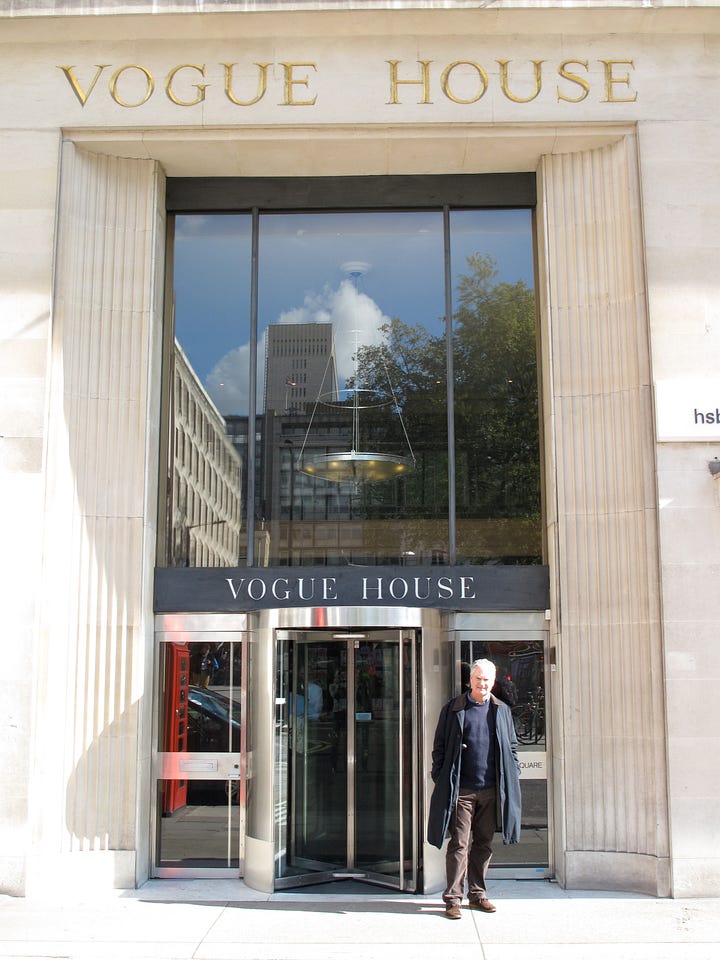 The Barcelona Connection - Research
This week I said I'd mention my notes and research behind the journey from Nîmes to Barcelona, which forms part of the investigation in Chapter 29 (and elsewhere in the book).
I did that whole journey, specifically from Nîmes in the south of France to Barcelona just once (although I've done Cannes to Barcelona several times) - and I timed it all and collected the toll tickets, times, distances and prices along the way. I've also done the journey from the Girona airport service station to Barcelona many times, as well as to the fictional masia of the Marquès de Guíxols (see Chapter 2 in Letter from Spain #8). I researched all the toll gates and tickets on those journeys, too. I even called the company that operates the toll gates across Spain, asking politely for details of what the sensors and cameras can pick up about each vehicle that passes through. I've admitted it before: I'm mad … I know …
Anyway, what happens? After researching toll tickets on the AP-7 autopista between Girona and Barcelona in minute detail, the Spanish government finally removes most, if not all of the tollgates! They still exist in the south of France, though, and they exist on certain other roads in Catalonia … and I've heard that they might even be put back in operation on the AP-7 north of Barcelona eventually. The toll tickets aren't the most important element of the book, besides …
At the end of my acknowledgements at the back, I write: 'One final note: the novel takes place over a few days in June in a pre-pandemic year, and before the authorities removed some of the tollgates.'
Next week, we'll take a look at Chapter 36 - the Port Olímpic and the Hotel Arts …
Previous links to my research notes are here:
The Barcelona Connection - Reviews, News & Events
It was great fun to participate in yesterday's discussion - 'How to enjoy and rediscover Barcelona through literature' at Barcelona City Council's International Community Day, with Cristina Belenguer and Annebeth Vis.
Thanks to everyone who came along - and even more to those who asked to purchase the book! Met some great people, shared some fantastic ideas - and who knows, there might be Guided Tours of Barcelona and/or Dalí-country available in the future, with a copy of The Barcelona Connection to hand …
Here are some images snatched from Instagram stories:
Links to reviews & articles
A review of The Barcelona Connection by Michael Eaude has been published in the October edition of Catalonia Today.
'Short, fast-moving scenes and the deft joining of two completely different plots … the novel is not just breathlessly rapid and action-packed, but overflows with humour and satire.'
'The excellent plotting, the local knowledge, the surreal humour, the political satire and the speed of events … it's an admirable and very readable crime novel.'
Here's the link for a review of The Barcelona Connection by Dominic Begg that came out in La Revista, a publication of the British-Spanish Society.
'The Barcelona Connection is a fast-moving page-turner with a helter-skelter plot.'
'The background to this thriller is realistic and familiar to those who know Barcelona well. It's a world of cynical, ambitious politicians; civil servants promoted via enchufe; friction between Spanish and Catalan investigators; disruptive anti-capitalist activists; bumbling US dignitaries and security guards; the continuing influence of old supporters of Franco; the soulless 21st century, exemplified by apartment hotels seemingly without human staff-members …'
Here's a link to a review of the book by Eve Schnitzer published by the Spain in English online newspaper.
'Tim Parfitt very cleverly weaves together two parallel though quite different stories, set against the background of a contemporary Barcelona that is even busier than usual with major international meetings.'
'Two plot lines interweave, with some highly ironic as well as suspenseful results … this book has a lot to offer the reader, from pure entertainment to solid information and, possibly, a fuller understanding of the complexities of Spain and Catalonia in particular.'
Here's the link to an article I was asked to write for The Art Newspaper about my research on Salvador Dalí.
You can also click here for the latest reviews on Amazon, as well as on Goodreads and at Barnes & Noble.
The book is available on Amazon or you can also click here to choose where else to order your copy from. It can also be ordered from any bookshop simply by giving the ISBN number: 978-1-7393326-1-7.
For professional enquiries and foreign rights for The Barcelona Connection, please contact my agent Justyna Rzewuska at the Hanska Literary & Film Agency.
Thanks for reading Letter from Spain! Subscribe for free to receive new posts and support my work.